Are you looking for an ensemble to play at a concert, a festive event? Here's the place to find whatever you're looking for!
Piano duo Hofer – Oelke
Elisabeth Hofer – Ursula Oelke – piano
Are you looking for a diversified program played by 4 hands of 2 ladies? If yes,
contact me
. We'll program some wonderful and unusual music that fits you and your event and excels your imagination!
DuoDuchesse
Béatrice Rogger, flutes
Ursula Oelke, piano/voice
We play light classics for flute and piano. Our repertory moves through melodious and sensually gracious works of the romantic period and easy listening and includes free improvisation on request.
You can book us
for concerts as well as for events. We will enhance your event with style, dedication and virtuosity and create your own individual program.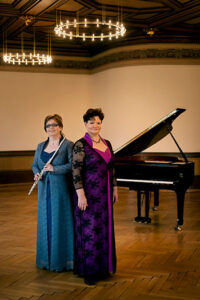 Duo Zeiter – Oelke
Daniel Zeiter, saxophones
Ursula Oelke, piano
We love to play for you – classical original repertory in Concerts as well as Pop and Rock ballads for all kinds of festive events.
Contact us
– we will create a program for you!.
For other Solos and Duos contact me.